There's a lot more to Belfast than the Titanic and what the news will tell you. Home to Game of Thrones, some of the friendliest folk you'll ever meet and a cracking pint of the black stuff (as well as some local surprises) it's the perfect city for a romp around in. Come and see what it's all about.
So three things are surprising when you fly in to Belfast City Airport:
It's pretty much in the middle of town in a way that would make London City Airport jealous.
While transport links TO Belfast are great, getting around town can be a nightmare.
It's a beautiful looking place.
Knowing that, it should make a short stay here go by quite easily, especially since the city has UBER and quite cheap local taxi services. Now most guides will tell you to visit the Titanic Museum (which is good), the Ulster Museum (which is good too) and to have a pint at The Duke of York (home to about a million Instagram photos). But that's not what I do at TravelRomp. I'm here to tell you where you should go if you want to find out more about Belfast, what bars the locals drink in that you should visit and where to eat that won't end up in a disappointing meal. I suppose it's best to start with a coffee, isn't it?
Common Grounds Café
Here's my rule of thumb when you're looking for a good coffee: go where the students go! Common Grounds Café is located at the precipice of the Holylands, the most populous student area in the city. The café prides itself on using fair trade coffee and ingredients in everything they make and has won awards for its ethical principles. All of their profits go to charity and when it's only £2.30 for a large cappuccino, it's the kind of value that blows the big names out of the water.
It's usually quite quiet in the summer months when term time isn't on and when I was there the people working there (who I later found out were volunteers) were all incredibly nice folk.
Fuscos Ice Cream Parlour
Now when you see the news of marches in Belfast over the summer, you'll usually see people clashing with police at an interface with shops all boarded up in the background. This is the scene for just one day of the year. On the other 364, it's actually a great place to go if you want to get a true sense of what living in Belfast is like. It also happens to be where one of the best chances to get ice cream in the city lies.
Fuscos Ice Cream leans heavily on the smooth side and with it being in a working class area, the prices are very cheap for the portions you get. They also do some very unique flavours like the Harry Potter (which looked like bubblegum blue) and Crunchie. They sadly don't have a website for me to share here on the blog.
Limelight
Like to really rock out on a night out? Head to the Limelight; a bar/club split across three different rooms. With two fully sized venues on either end and a bar sandwiched in the middle, it is a very popular night out at the weekends and for gigs during the weeks It has the same vibe that o2 venues on the mainland UK have, but because it's run in an independent sense, it makes for a fun night out as long as you can understand what someone from Belfast is saying over loud music when you've both had a few drinks.
Cavehill
Get the hiking boots out. It's time for a walk. If you didn't know already, Belfast sits within a massive valley and to the north side of the city is a large hill that overlooks the entire city and neighbouring towns.
It is the perfect spot for a panorama shot and helps give an idea of how the city has mapped itself over the last few hundred years. Although if you're the type of person who doesn't do the best when walking up hills and found somewhere like Arthur's Seat in Edinburgh a bit challenging you may want to skip this as the walk is very steep at points and the full route is 4.5 miles long.
http://www.walkni.com/walks/79/cave-hill-country-park/
The Garrick
A lot of people will visit The Crown Bar on Great Victoria Street which is famous for it's exterior and interior. It can, even at the best of times, be a nightmare to get a quiet pint in though. There is one other bar on the other side of City Hall that has the widest selection of beers in the city, amazing pub grub and a pile of board games to while away a rainy day.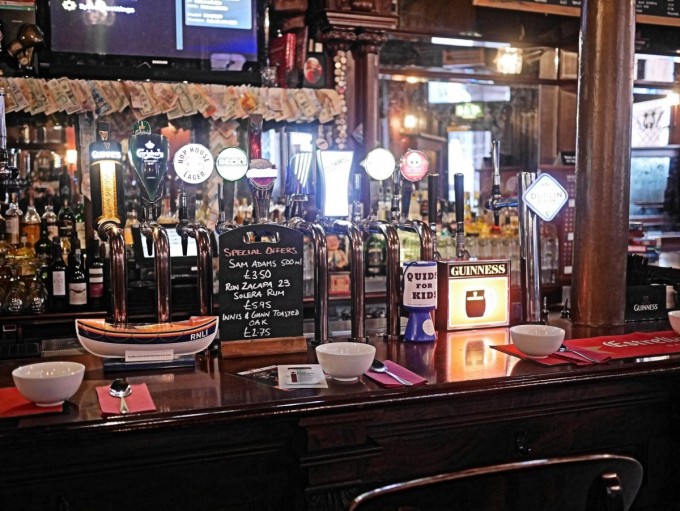 The Garrick was my favourite bar in Belfast simply because the staff had an expert knowledge of all the drinks they sold. There is a big shelf at the top of the bar which runs along the walls and has empty bottles of every international beer they sell. They also had a selection of local craft beers on tap which weren't bad at all.
St. Georges Market
The only tourist trap in this post I will mention is this beautiful market near the River Lagan. Standing tall since the 1890s, on Fridays it is the place to go for local chefs and wannabe cooks to pcik up fresh local produce from vendors. On Saturdays, it is the foodie spot to be with stalls serving up all sorts from 9-3.
I'd advise heading early as any time after 11 is when the market is bunged. In the middle of the market there are usually bands performing and it can be a game of musical chairs trying to navigate and find space to eat a famous Belfast bap. There is also a Cuban sandwich stall which will give you a sandwich for £5 that will for a few second transport you to Havana and back. (I've recently found out that the man who makes those amazing sandwiches has opened his own little shop near the market that you should check out if you're visiting Belfast during the week)
McHughs
Flying in and out of Belfast City Airport? The last stop of the bus before it crosses the river and on to the airport is at Custom House Square. This is where you'll also find the oldest bar in Belfast. McHughs has been here since 1711 and is the ideal spot for that last Guinness before you head home. Pretty much any time of day it will be quiet and have an extremely relaxed vibe.
It helps too that the top floor has an award winning restaurant that serves up unbeatable steaks and olds school local cuisine that you won't find in many other restaurants around town.